With 27 kilometres of coast, Marbella boasts a beautiful variety of beaches. Whether you are looking for calm away from the tourist trail or seeking full on activities and eateries, Marbella has an idyllic spot you'll fall in love with. You can't fail to appreciate the natural beauty of this Andalucian coastline and you'll soon seek out your favourite locations. Sweeping sand and clear water sitting comfortably with all the facilities and comforts of a cosmopolitan resort, Marbella's beaches appeal to both residents and tourists.
You're unlikely to find anything but good beaches but here's our pick of the best eight:
Playa de la Fontanilla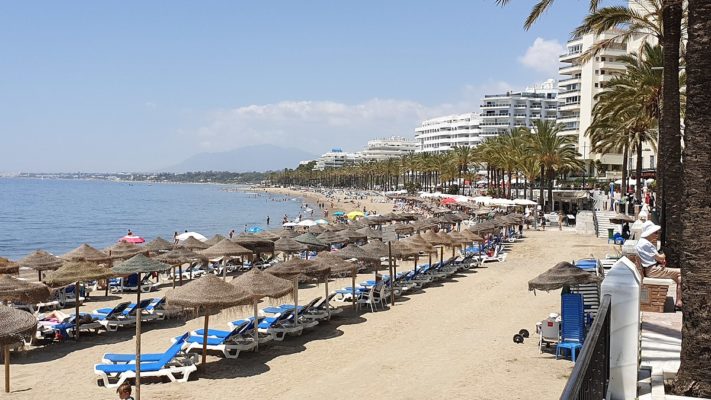 Picture from https://es.wikipedia.org/
Starting in the city, Playa de la Fontanilla enjoys the prime central location. Good, safe swimming and all the facilities for a day enjoying the sun. There's a beach level promenade offering beach bars and restaurants, with a further higher promenade lined with palm trees and restaurants.
La Venus
Picture from https://playas.es/
A busy and lively beach, La Venus is central to the promenade. One of several sporting disabled access, La Venus is suitable for all with plenty of sunbeds and tropical style thatched parasols. There's underground parking and play zones for the children. Showers, toilets and a great selection of restaurants can all be found and come the evening, La Venus has super sunset views. To the west of the beach are boat and yacht clubs at Puerto Deportivo, where you can take boat trips.
Bajadilla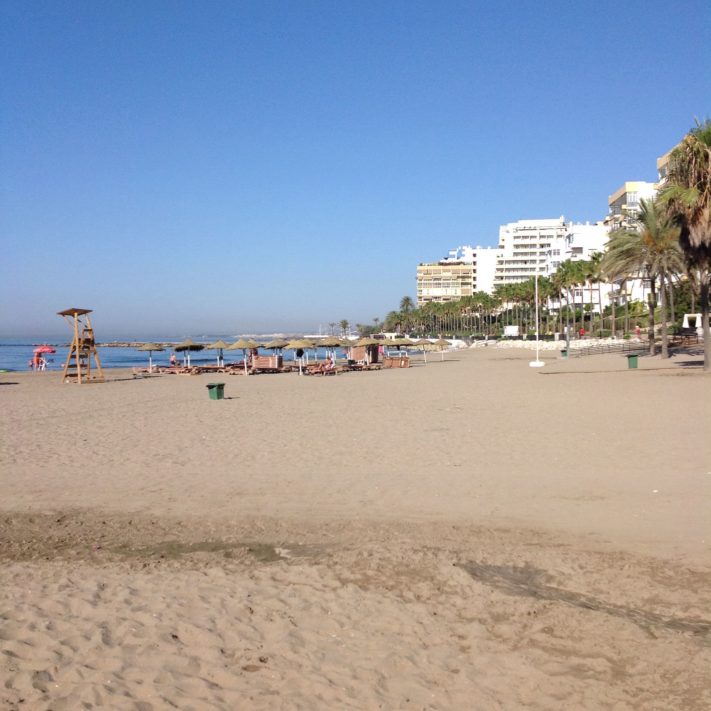 Picture from https://www.pinterest.es/pin/346495765054790972/
Located near to the fishing port and a short walk from the old town, Playa de Bajadilla has calm, clean waters earning itself one of Marbella's several Blue Flags. Stones to jump from and the presence of a lifeguard add to the appeal for families. There are plenty of restaurants and bars, toilets, showers and sunbeds and parasols to hire. La Bajadilla has disabled facilities.
El Faro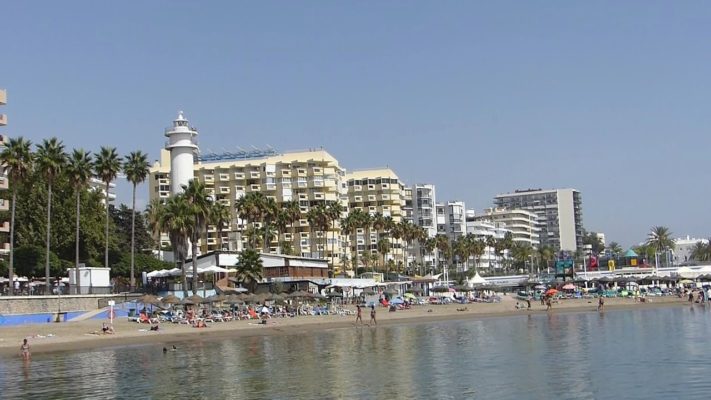 Picture from https://www.tripadvisor.es/
Also near to the port is Playa el Faro. This is sheltered by breakwaters providing calm waters. Named after the 1864 lighthouse which overlooks the bay, El Faro's large children's play area and shallow sea make it a popular haunt for young families. It's a short walk from the high profile shops, restaurants and the attractive Parque de la Constitución. Water sports are offered and lifeguards are on duty during the summer months.
El Ancón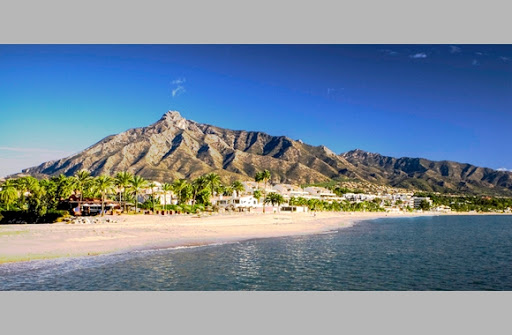 Picture from http://www.guiamarbella.com/
El Ancón's long stretch of sand has universal appeal and situated on the Golden Mile (Milla de Oro) is a very popular spot to reach by bicycle and sporty types will enjoy the many activities on offer. But, El Ancón's length allows plenty of space if you just want to chill under a parasol. The Chiringuito Victor's Beach being the famous bar at the location and regular evening parties add to the charm of El Ancón.
Nagüeles
Picture from https://www.vacaciones-espana.es/
Also on the Golden Mile and next to the famous Marbella Club is Playa Nagüeles. This beach has an exclusive feel and occupies a central location by the promenade with its many snack bars and cafes. Enjoy the soft sand between your toes, relaxing swims in beautifully clear water, and soak up some rays in style. With the backdrop of Sierra Blanca mountains, Nagüeles offers great facilities and its shallow waters are ideal for children. Lifeguards are on duty all year.
A variety of properties are currently for sale on Golden Mile such as a 4 bed luxury apartment in Ancón Sierra, in Las Lomas de Marbella Club. Or if you seek more elevated views, a refurbish or rebuild villa in Camoján, nestled by the Sierra Blanca mountains.
El Cable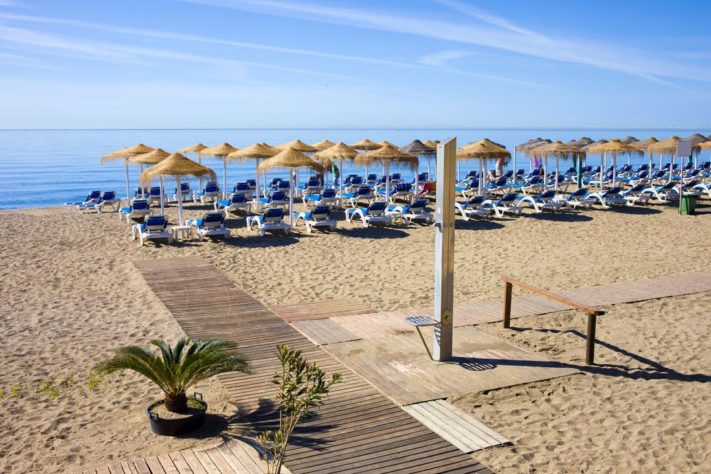 Picture from https://tripkay.com/
The water is clear and the beach has a reputation for cleanliness and good basic facilities, meaning it remains busy. El Cable is a particular favourite for young people with its beach volleyball, sandcastle building competitions and fitness groups. There are several beach bars and cafes with affordable offerings.
Nueva Andalucía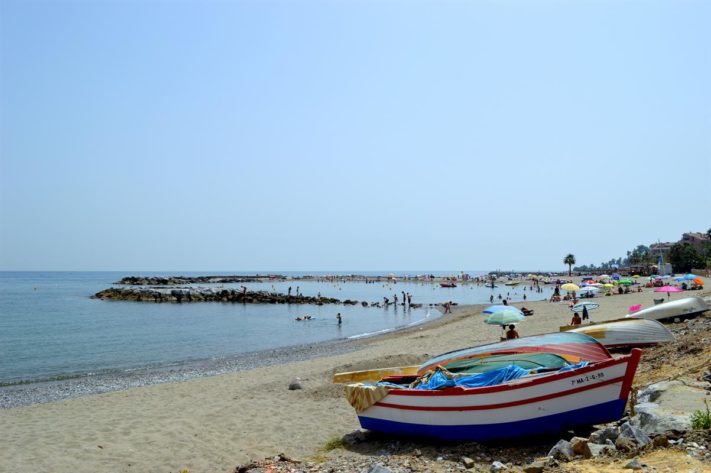 Picture from https://www.vacaciones-espana.es/
Often referred to as the prettiest beach on the coast, Nueva Andalucía comprises a number of small coves created by breakwaters. A hugely popular spot. Both its beauty and beacons such as La Sala Beach Club, draw in the crowds.
Both trendy and traditional chiringuitos can be found, along with a superb water sports offering. The boardwalk allows a splendid palm tree lined walk with views to the famous Puerto Banus to the west. The many bars and cafes provide ample opportunity to sit and soak up the atmosphere of this treasured beach.
We've a selection of properties available in this prestigious area of Costa del Sol including a fully furnished 2 bedroom apartment at Los Granados Golf urbanization and a villa mansion at Parcelas del Golf urbanization. Or why not try a short let for a taste of Nueva Andalucía? A variety of different size properties are available for fully equipped and furnished holiday lets.