You will find Mirador Village within the exclusive gated community of Mirador del Paraiso on the Costa del Sol. It is located in the beautiful El Paraiso Valley near Benahavis. You will enjoy a wonderful lifestyle when you move into one of these luxurious villas in this unique complex.
Safe and Secure
Mirador del Paraiso is a luxury urbanisation. It consists of many properties, including townhouses, traditional villas, and futuristic homes where technology is standard. When you choose a new luxury villa in Mirador Village, you have the peaceful surroundings of a secure gated community. As part of the larger Mirador del Paraiso urbanisation, you will benefit from the services of professional guards. They patrol the perimeter fence twenty-four hours a day. There is only one opening that acts as an entrance and exit. The guards keep you and your property safe by restricting access.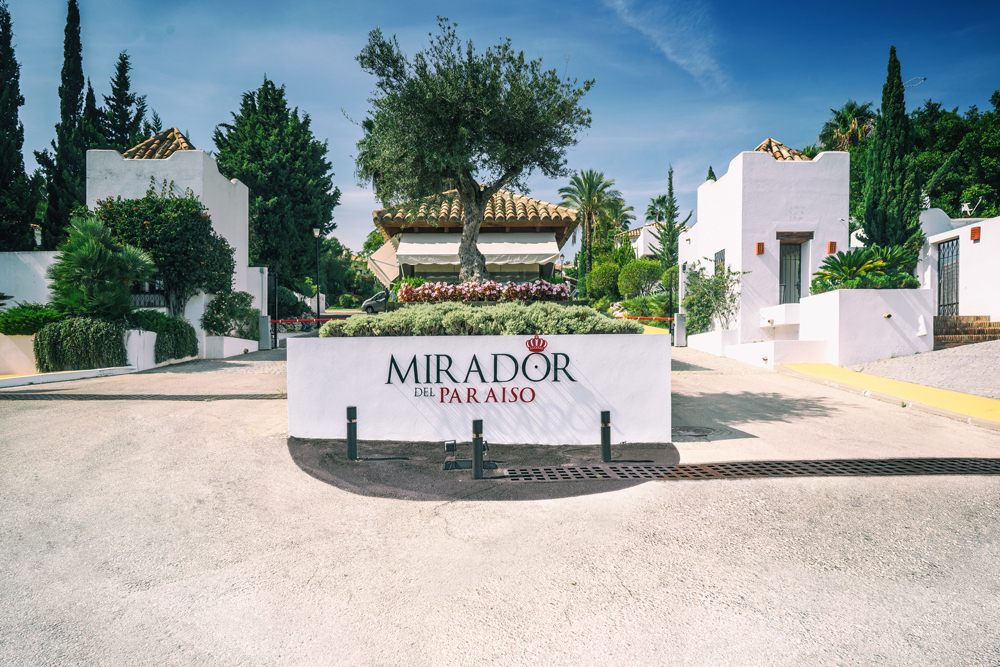 Luxurious Villas
Mirador Village is one of the most exclusive new developments on the Costa del Sol. It combines the charm of a traditional Andalusian White Village with today's contemporary architecture. Our thirteen luxury villas in this secure development have all been individually designed. Your luxury villa will be unique. Some designs incorporate attractive stone cladding to blend with the natural surroundings. Some spectacular pergolas and canopies add originality and style to the villas.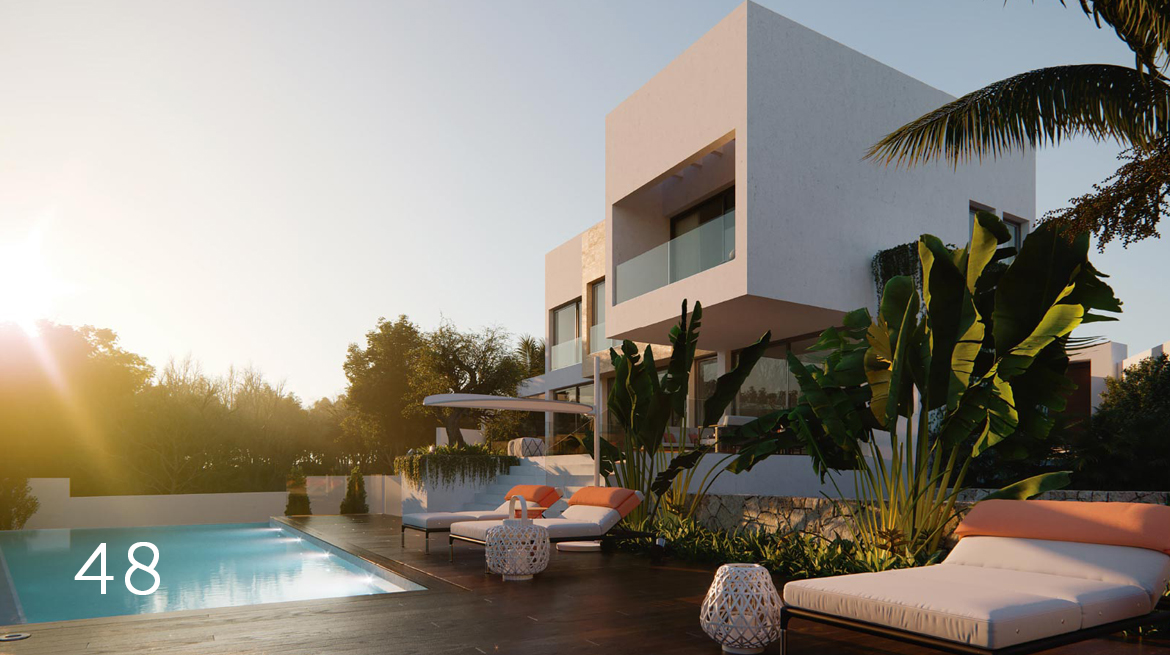 Streamlined Interior
Each two-storey luxury villa features strong geometric lines and large floor-to-ceiling sliding doors. Natural light and fresh ocean breezes can easily penetrate, making your new home bright and airy. A spacious, open-floor plan provides seamless movement in your main living area. It creates a relaxed and tranquil ambiance. There are four large bedrooms with en-suite bathrooms in each villa, offering peace and privacy. At Mirador Village, you can also enjoy outdoor living to the fullest. There are terraces and balconies where you can relax and dine. Each villa has a secluded garden with its own swimming pool.
Amazing Selection of Exclusive Apartments
Mirador Infinity is another exclusive development within the main Mirador del Paraiso complex. It consists of twenty-four luxurious apartments and penthouses. They are equipped with the latest technology, including home automation. There is also a convenient charging station for your electric vehicle. The spacious apartments have private terraces, pools, and beautiful views.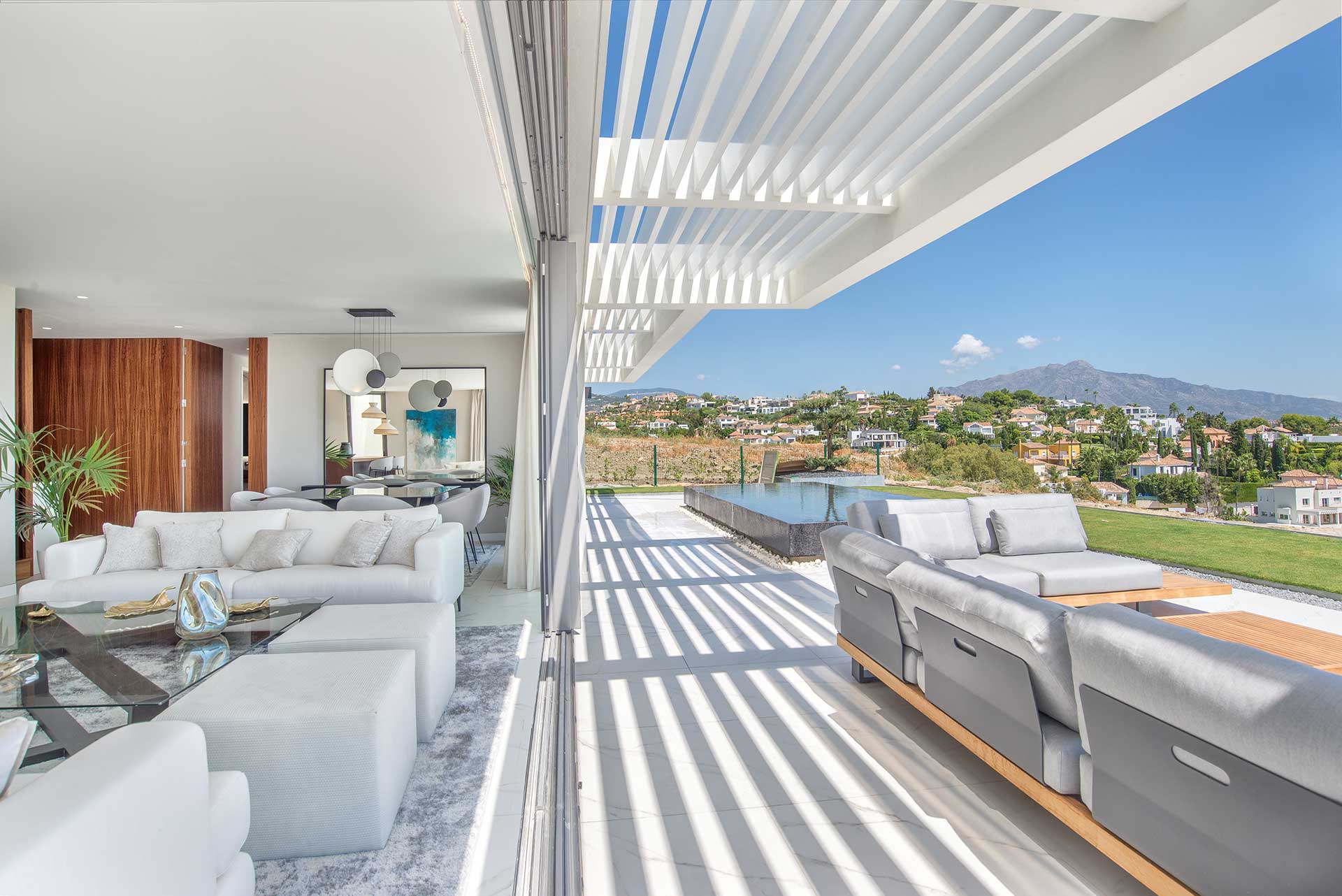 Exclusive Location
Mirador del Paraiso is located within the Golden Triangle. This exclusive area of the Costa del Sol includes Marbella, Estepona and Benahavis. When you stay at Mirador del Paraiso, you can easily reach these towns and their amenities. Benahavis is an exclusive residential area with high-end restaurants. After a short drive of less than twenty minutes, you will be in Marbella. There are many shopping malls and boutiques to visit there. You can relax in the bars overlooking the marina in the nearby Puerto Banus. Everyone loves to visit the picturesque old town of Estepona. It is only seventeen minutes away from Mirador Village. You also have the opportunity to play golf at one of the many amazing courses near Mirador del Paraiso. El Paraiso Golf, Atalaya Golf, or Guadalmina Golf are some of these fantastic golf courses with mountain or even sea views, and just a stone's throw away!
Luxury Living at Mirador del Paraiso
Moving to Mirador del Paraiso offers you a secure and luxurious life. You have a beautiful, spacious property and a luxurious lifestyle to match. Your home is located in a prestigious location in the country. It is close to beaches, restaurants, and championship golf courses. Mirador Village and Infinity are impressive new developments within Mirador del Paraiso. Magna Estates has the experience and professionalism to help you purchase one of these exclusive properties. With our personalised service, you will soon be securing luxury living at El Paraiso.