We all know by now that according to the latest official reports, Spain's economic recovery is just round the corner. It points to an improvement in the next 2 coming years thanks to the reduction in unemployment and the improvement of banking conditions.  According to the Spanish national institute of statistics (Instituto Nacional de Estadística -INE), in the second quarter of 2016 Spanish GDP was 3.2% and it is deemed to be the Eurozone propeller of growth.
As a result of that and due to Marbella privileged geographical situation, we would like to share 6 important reasons why you should invest here.
1- Attractive area. This is undoubtedly the reason number one for all investors, as it is close to Europe's strategic points, it has excellent high-speed train connections from/to Malaga; ships, ports, and marinas, whether Malaga, Algeciras, or Puerto Banús, as well as air connections from nearby Malaga airport. All this makes of Marbella a jewel to be discovered because of its climate and culture.
2- Spanish growing real estate market, and more specifically, the Costa del Sol area is one of the best valued ones for real estate investment. Whereas property value in mainland Spain is increasing between 20%-30% annually, in Marbella this percentage is within the higher range and sometimes even goes over it.  25% of Europeans are thinking of getting retired abroad, and southern Spain is one of their favorite destinations.
3- Climate and quality of life. It is no secret that Marbella is one of the cities where people would prefer to live, where the quality-price ratio regarding leisure areas, restaurants, sports clubs, and water sports is one of the top ones in Andalusia.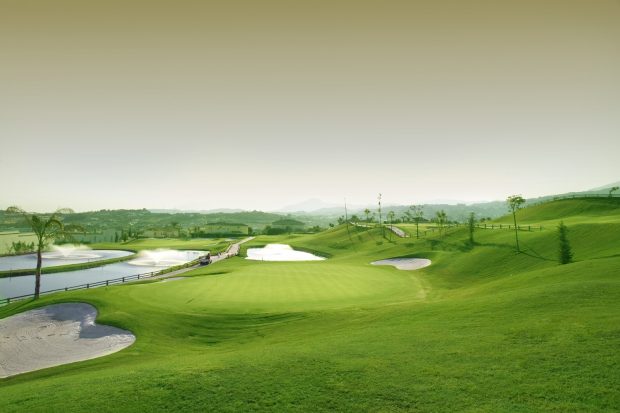 4- Golf courses. Marbella is one of the places featuring the widest quality golf course offer in Spain. Indeed one out of four of Spain's Top 100 golf courses is in Marbella.
5- Property prices. Since the beginning of the crisis in 2006/7 to 2016 prices have decreased up to 50% on average. The low interest rates of the Eurozone have resulted in the purchase of properties being the best investment compared to other possibilities. More especially in Marbella sales have gone up in the first 2 quarters of 2016 and it seems that they are not going to increase a great deal in the next few years.  
6- Tourism. Marbella is the economic driving force of the Costa del Sol and tourist trend is changing, as tourists now seem to prefer to rent or buy vacation properties. Today Spain is the third country of the world with the highest number of incoming tourists.  More specifically in 2016 Spain has received over 70 million tourists so far.  Marbella is said to have up to one million visitors throughout the summer season. That is why it is profitable to own a well-located property in Marbella.
At Magna Estates we have a broad selection of investment opportunities in Marbella and surroundings, ranging from affordable vacation apartments to large luxury villas. To see our properties, please click here.