In a superb town like Marbella, full of Michelin-starred restaurants and renowned chefs, it is not difficult to find fine dining restaurants. Today we would like to share with you a series of eateries serving all sort of traditional dishes, avant-garde cooking, haut-cuisine where only top quality products and ingredients are used. They are ideal to spend wonderful evenings and after-dinner conversations with the family or friends. Let us start with the dean of the restaurants in Marbella:
Right in the heart of Marbella beach promenade, next to Avenida del Mar, there is the restaurant of Santiado Dominguez, the dean of Marbella, who founded his restaurant over half a century ago.
Santiago Domínguez has become a culinary icon, he always welcomes guests with a smile, just the smile you will give him back to thank him for his excellent cuisine.  This restaurant is a must for all sort of people and celebrities.
Restaurante Santiago serves the best fish and seafood in the area, and has elegant lounge rooms where you can enjoy real Mediterranean food. It is indeed a charming place where a master like him will surely surprise you. There is no doubt – you will go back.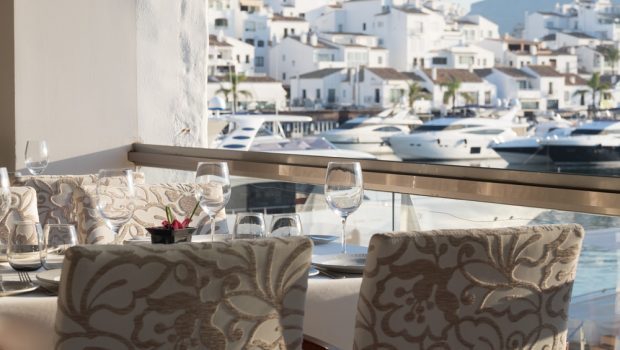 It is in the heart of Puerto Banus, one of the most privileged spots in the Costa del Sol and more specifically, in Marbella. We get to Pier of Honour, the area with the largest most luxurious yachts in the whole marina. Next to the captaincy tower, there is El Gran Gatsby, the single gastronomic restaurant in Puerto Banus. Its cuisine mixes creativity with traditional flavours in a privileged place, offering amazing panoramic views of the port. The elegant décor, service and ambience are also fantastic, a unique experience for your senses. The open-air terrace, just over the marina entrance, is a great spot to enjoy a drink or one of the special cocktails this restaurant is also famous for.  A must.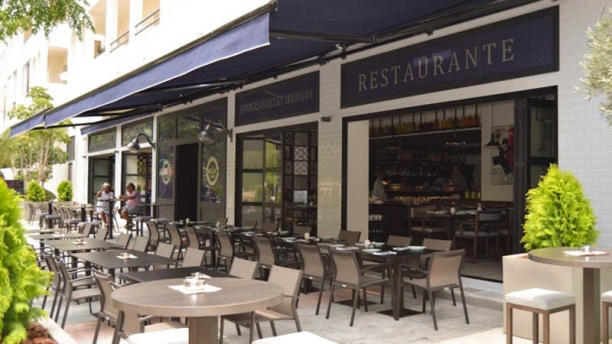 In Marbella town centre, at 3 Calle Hermanos Salom  (from Jacinto Benavente 33), chef  Javier Ponte welcomes you to his  "Paella's y más" restaurant. It has a wonderful terrace and magnificent lounges with designer décor, the ideal place to enjoy an evening full of sensations in a relaxingly pleasant atmosphere. 
Javier offers a personalized service, his vast wine selection, and at his restaurant they are specialists in rice and fideua, as well as prime iberico products. We recommend you start ordering Bellota Iberian ham croquettes with Manchego cheese and Mushrooms with garlic. Rice is top quality and Javier's black rice can be your favourite. But you will also enjoy any fish or meat dish and you feel you are tasting something absolutely different.  In short, you can enjoy his heart felt cooking which combines traditional Spanish recipes and ingredients for creating innovative and delicious cuisine. A risky option, as he himself sees it, to reach the success we all wish him.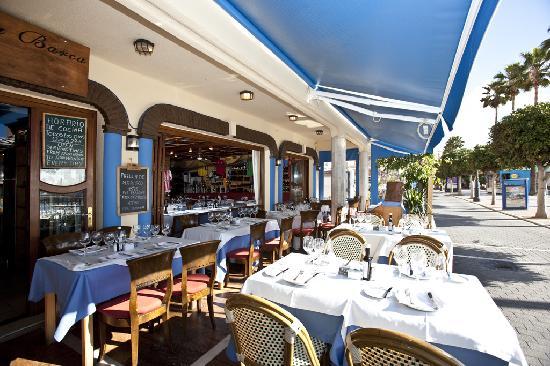 Situated right in Marbella beach promenade, next to the lighthouse tower, Fermin welcomes you to a small fishing boat at his restaurant's door, which gives name to the restaurant he actually manages.
Fish and rice are the specialities here, and  there is also a vast quality wine list. "Restaurante La Barca" will never upset anybody, it is always a good choice, as its products are top quality  -Iberian, cheese, seafood, etc-, and they also offer the typical Malaga frituras (assorted fried fish). Especially recommendable are fish a la sal style, -such as sea bass, turbot, sea bream- and rice in different marinero styles.
In short, you can never go wrong if you go to "Restaurante La Barca" for lunch or dinner with family, colleagues or friends. It is a must, an ideal place for celebrations. The quality of its products, the service and professionalism of the staff, as well as Fermin's charm, will surely make you want to go back.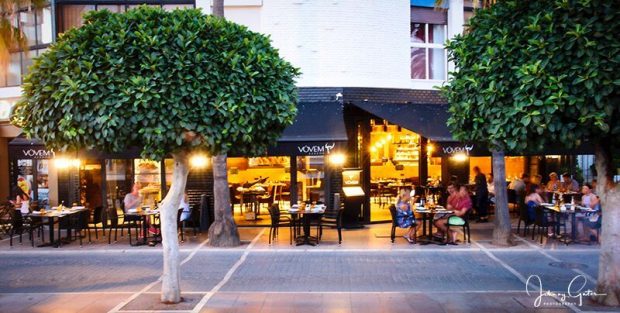 Vovem Asador is a new grill house concept where, obviously, top quality meat is the main ingredient. Indeed they serve beef from all over the world, such as  Avileña-Charolais, Rubia Gallega, Frisona, Wagyu Japanese beef and Kobe beef, as well as Andalusian berrenda en colorao beef. However, they also offer a vast selection of fish, coques, stake tartare and rice dishes, which make it a new reference in Marbella. There are two restaurants – the first original one in Nueva Andalucía and the newly-opened oner, next to Marbella marina.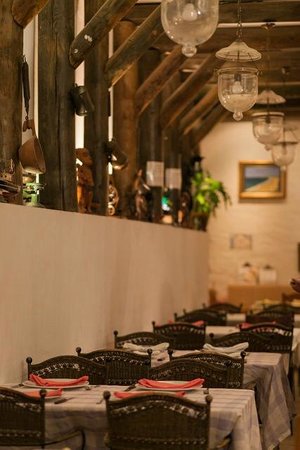 Traditional cuisine par excellence, located at Calle Notario Luis Oliver (opposite Rio Verde high school) served at a small restaurant where you will feel as if you were at your house's lounge.
This restaurant has a selected menu of generous dishes, typical granny's food, a variety of stews and casseroles, popular rice dishes, croquettes and Spanish omelettes; lamb and entrecote are especially popular. Although it will surely be hard, leave room for one of Gaspar's home-made desserts- crème caramel, torrijas or cakes.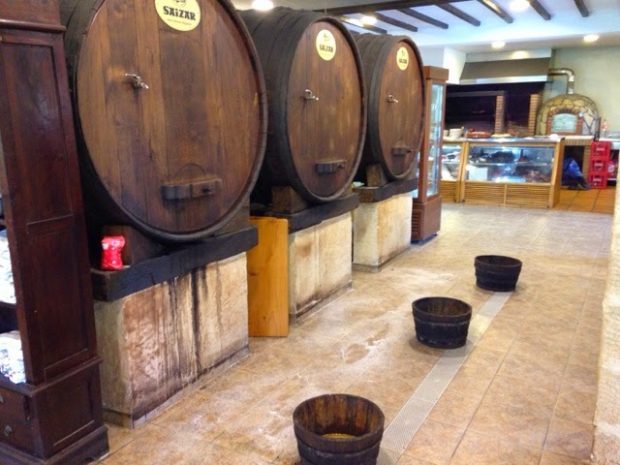 A Marbella classic, we find the 'Basque cuisine in Marbella' as they call themselves, in  El Palomar building, in El Mirador complex.
Surrounded by cider barrels you can decant yourself, "Sidrería Usategui" is a must for those who enjoy good food as they only  use top quality raw materials.  This cider bar is like a trip to Northern Spanish cuisine – quantity and quality and good wine or cider.  As starters we recommend croquettes, anchovies, and peppers, and as delicious main courses, don't forget to try cod, sirloin and their famous T-bone steak with a side lettuce salad.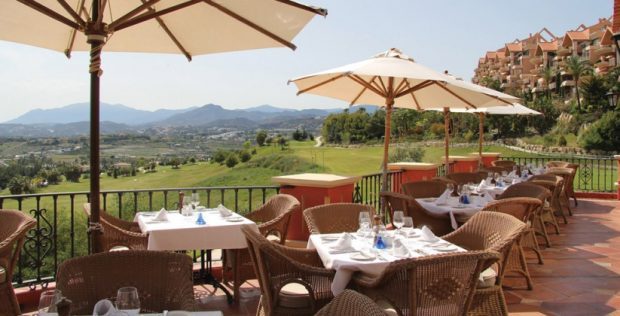 When you go to this restaurant lounge bar for the first time, you understand the real meaning of what the Nueva Andalucia area is like. I cannot think of a more beautiful place in the whole area where you can see the coast as you are standing on a golf course like Magna Marbella.
Food is excellent and the large variety of local fish dishes and delicious meats are particularly outstanding, not to mention their exceptionally friendly service. Lunch is particularly recommendable as the place gets very busy at dinnertime due to the lovely views which give the night a very special touch indeed. Highly recommendable.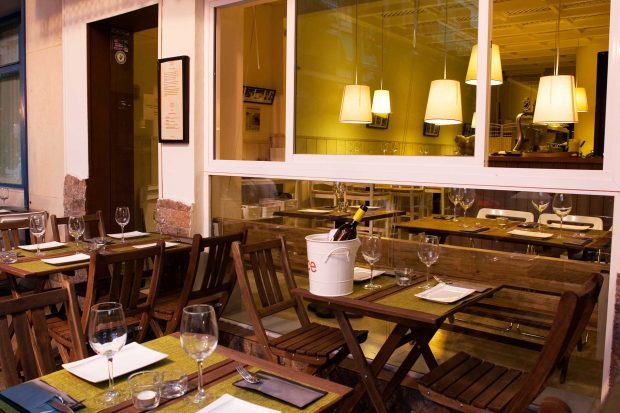 In the town centre, at 11 Calle Ramón Gómez de la Serna, there is this bistro. Set up by Marbella-born  Alfredo Medina, their friendly staff offer Mediterranean dishes. Selected menu of interesting light dishes to share in a dinner for two. Try all their dishes (they are delicious), like for example, their potatoe salad ensaladilla rusa al limón, cod confit and tuna tataki. And do not leave the place without tasting their nice desserts – the lemon one is a must, so remember – the lemon dessert.
Restaurante Buenaventura.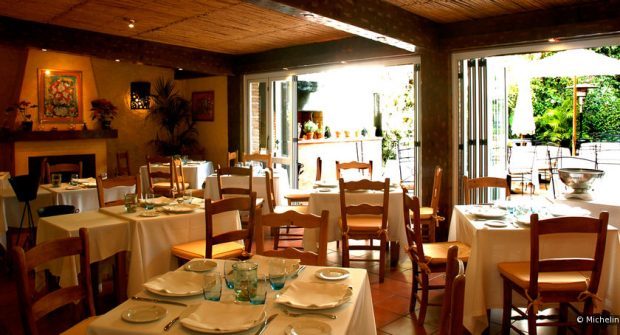 Located in Marbella town centre, at Plaza de la Iglesia de la Encarnación, Buenaventura Restaurant offers a nice evening at an unbeatable place. It has a beautiful Andalusian courtyard garden to enjoy a charming night.
Its menu is very varied indeed. As a starter, don't forget to try ajoblanco fresh almond soup
and any of the salmorejo tomatoes cold soup versions. As for fish, cod and turbot are particularly outstanding, and barbecued meats are too.   
Highly recommendable for a romantic dinner to surprise your partner or just to spend a pleasant evening with friends. It was the place former US first lady Michelle Obama chose for dinner during her visit to Marbella in 2010.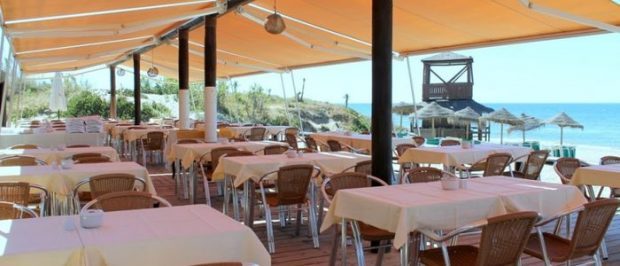 Situated in "Real de Zaragoza" beach opposite  "Lunamar" urbanization, we find "Aquí te quiero ver", a typical beach bar that is full in the afternoon, really busy and lively, where you can taste Mediterranean food – Malaga fried fish platter (fritura malagueña), rice dishes and grilled sardines espetos. At night it becomes a relaxing restaurant that serves dishes made with top quality products and ingredients, right on the beach and under the moon light, as well as excellent cocktails.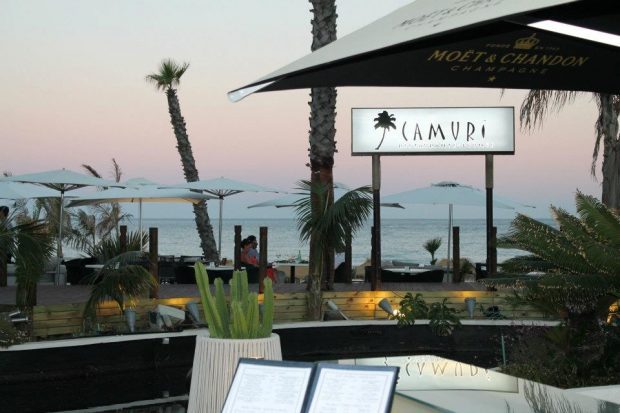 If you wish to be in an oasis outside Marbella, Camurí is your place. This magnificent restaurant-lounge is right on the beachfront, off the Mediterranean coastline. It is an international eatery at Laguna Village mall, off Estepona. It features a palapa-covered dining area with amazing sea views where you can taste seafood and rice in a quiet place.  Ambience and varied international cuisine, Mediterranean dishes mixed with Asian ones; its singular salads, steak tartare and carpaccio are worth mentioning. They are specialists in sushi and woks. We also recommend crispy langoustines as a starter and duck, whatever the style it is cooked.
There is private parking, it is an ideal place to spend the day as there are sunbeds and Balinese beds for sunbathing. It is a quite eatery where you can enjoy varied food in a nice atmosphere, and it also has a lounge area to have a cocktail.  Wherever you come from, you will feel at home.
Alfredo (San Pedro de Alcántara)
Close to San Pedro de Alcántara, at 8 Calle Andalucía there is a classic-  Restaurante Alfredo, with a family atmosphere, very cosy. It is a must for visitors. It has a terrace and a large lounge decorated with typical bull-related motifs, friendly staff serving delicious traditional Spanish dishes. They are specialists in meats, and drinking good wine in nice company is always a pleasure in this place. It is highly recommendable to have meat balls as a starter, without forgetting their delicious pil-pil prawns. Everything is delicious at  "Alfredo" including the local fish, but make sure you try lamb chops, venison, and sirloin, among others.