If what you wish is to move away from the hustle of towns and get into the gentler relaxing life of Andalusian whitewashed villages, the Malaga province has many options for you.  
Just a few kilometres away from Marbella, there is a melting pot of small charming villages we recommend you visit in this mini guide:   
Ojén.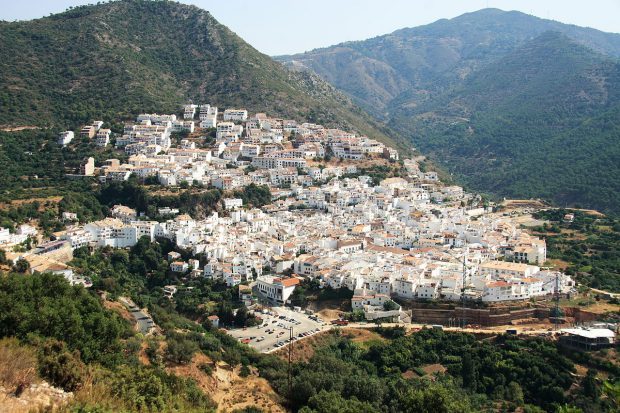 This is the closest village to Marbella, only 8 km away. It is precisely because of it and its undeniable charm that it is one of the most visited villages by tourists within the Malaga province.
You can either stroll around its narrow irregular-shaped streets full of beautiful flower pots or else have a delicious lunch in one of its always busy bars (until early hours in the morning).
If you go to Ojén, visiting its caves is a must. They are of a karst nature and closely linked to the life and history of the village because they were used as shelters for people and animals and the storage of animal food stuffs. If you climb up to the upper caves, you will find a viewpoint at the top which is an ideal place to admire the views of the white village as well as the green and blue of Marbella countryside and beach.
Istán.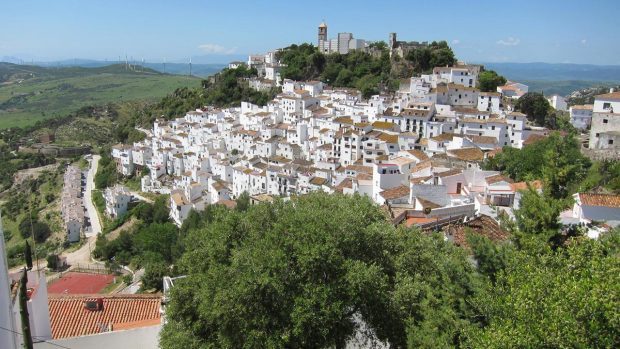 Around 37 kilometres from Marbella, there is the village of Istán, set in an amazing landscape, over the valleys of the rivers Verde and Molinos, next to La Concepción reservoir. You are strongly recommended to drive carefully along the road that links  it to Marbella as you frequently find cyclists on the way. We recommend visiting San Miguel church, located in a cave just a few kilometres from the old town, as well as the water museum- it is the interpretation, information and exhibition centre. Its aim is to get people to know about the history of the importance of the local water resources of the Sierra de las Nieves mountain range.
In addition to that, do not forget to visit the panoramic views from Casa de la Juventud, Calle Azufaifo and El Peñón- from these viewpoints you can enjoy the views over the surrounding area of Istán, as well as river Verde, and the course of the river Los Molinos and its waterfall.  
Monda.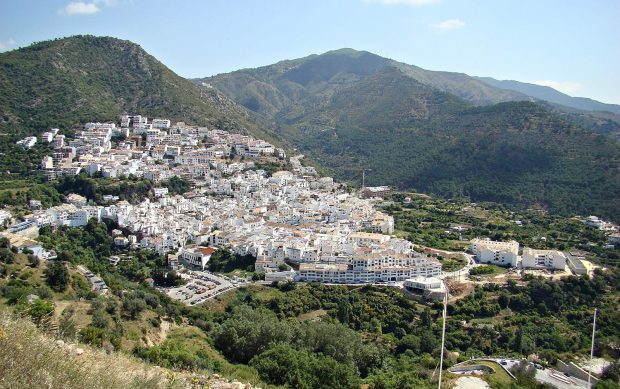 Monda is just a 20-minute drive inland from Marbella. What makes Monda stand out from the other whitewashed villages is its good-hearted people, who welcome everybody.   
Indeed there are many foreigners living in Monda and they make up a truly melting pot, which is also due to the proximity of the International Design School.
It is highly recommended to visit Monda during one if its many good fairs, such as the "sopa mondeña" -Soup of Monda day-, a traditional recipe dating from the nineteenth century that Monda locals still keep and cook.
Moreover, you mustn't leave Monda without making a visit to its iconic castle, built on the ruins of 19th-century Arb fortress of Al-Mundat.  One of the original towers can still be seen, as well as its foundations. The castle is located on the top of a hill from where you can enjoy amazing views to all directions.  
Mijas (village).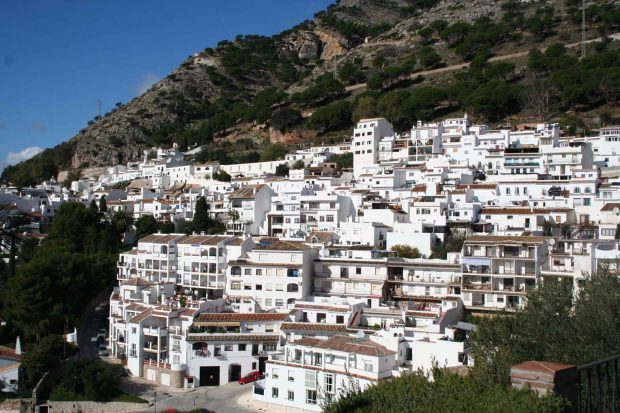 Mijas is located just east of Marbella, on the way towards Málaga. Mijas consists of two areas- Mijas Costa (coast) and Mijas Pueblo (inland village).  In this guide we will only refer to Mijas Pubelo.  
Although it is the third largest municipality in the Málaga province according to the official number of inhabitants, the charm of Mijas as a whitewashed village still remains and it attracts thousands of tourists all year round.  
There is something that makes Mijas rather distinctive- it is its burro-taxi (donkey-taxis), a means of transport dating back from the end of the 1950's, when some of the local quarry workers would go back home riding their donkeys. They would be finally requested by tourists to take a photo or ride around the village.
Antequera.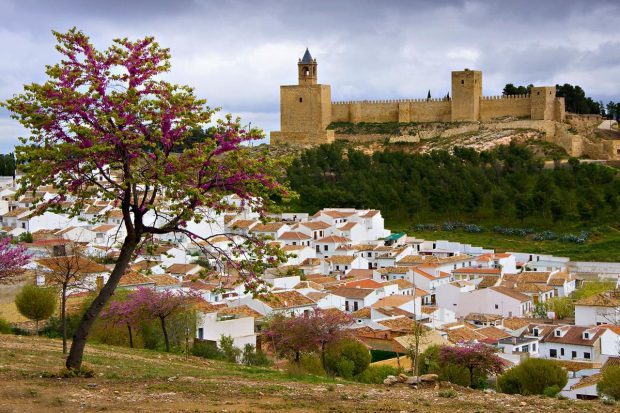 This historical Andalusian town is situated in the north of the Málaga province. It is the first largest municipality of inland Málaga both in terms of population and surface area.   
Visiting Antequera is especially recommended for religious architecture lovers, as there are many religious buildings in this town- hermitages, chapels, churches …  
Moreover, there are many trekking routes along which you can also enjoy the beautiful landscape and visit its prehistoric Dolmens Site, inscribed on the UNESCO World Heritage list. We spoke about them in other links. Click here to read.  
Júzcar.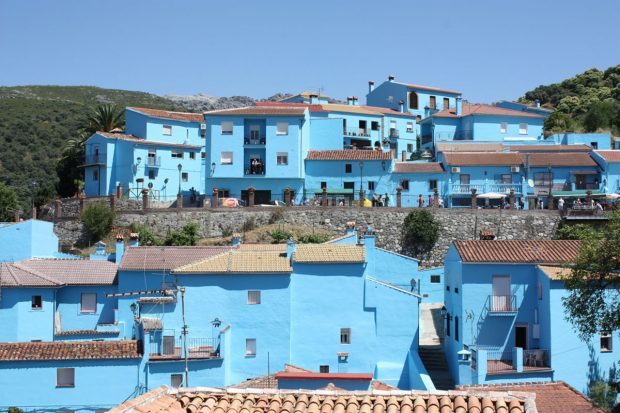 Júzcar is a more daring recommended village, but highly recommended if you visit it with children.
It is situated in the east of province, in the Valle del Genal valley. The village is especially visited because it is….  the so-called 'Smurfs village'! Several years ago,  Sony Pictures chose it as the perfect place to shoot the Smurfs movie. The whole village was then painted in blue. As a result of the success in terms of visitors, the locals decided to leave the village houses and streets painted in blue, as they are today.  
This is only a short selection of Málaga whitewashed villages. Indeed any village in the Málaga province is unique due to its special features, but particularly, due to its charm and history.